Falk Chosen by Burlsworth Trophy Selection Committee
SPRINGDALE, Ark., Dec. 4, 2017 – Monday, Washington State's Luke Falk was named seventh winner of the Burlsworth Trophy in Springdale, Ark. at a ceremony hosted by the Springdale (Ark.) Rotary Club.
The award is given to the nation's most outstanding player who began his career as a walk-on. On hand to present the trophy to Falk was inaugural Burlsworth Trophy winner Sean Bedford and Marty Burlsworth, founder and CEO, of The Brandon Burlsworth Foundation.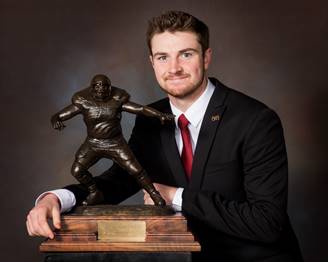 The Burlsworth Trophy Presentation ceremony was held at the Northwest Arkansas Convention Center. Pro Football Hall of Famer Bobby Bell spoke at the banquet.
Falk, a two-time Burlsworth Trophy finalist, has thrown for 3,224 yards with 29 touchdowns and 10 interceptions in 11 games for the 9-2 Cougars. The 6-foot-3, 224-pound Falk ranks in the Top 10 nationally in passing touchdowns and total yards and he leads the Pac-12 in passing touchdowns and passing yards. Last week, Falk became the all-time record holder for touchdown passes in Pac-12 history as he passed USC's Matt Barkley with 118. Falk earned Pac 12 Player of the Week Honors in Week 3 for completing 37 of 49 passes (75.5 percent) for 396 yards and six touchdowns in a 52-23 victory against Oregon State. Falk, who has started all 11 games for the No. 15 Cougars this season, walked on at Washington State with no Division I scholarship offers, rather than accepting a financial aid package to attend Cornell. Falk currently ranks among the NCAA Top 10 in all-time career passing yards, touchdowns and total offense.
Other finalists for the award were Memphis Wide Receiver Anthony Miller, Oklahoma Quarterback Baker Mayfield, and Wisconsin Tight End Troy Fumagalli.
Miller ranks No. 2 nationally with 11 receiving touchdowns and is No. 14 nationally with 905 receiving yards through nine games. Miller, who is 5-foot-11, 190 pounds, has recorded two games with 200 receiving yards for the Tigers, who are currently ranked No. 18 with an 8-1 record. Memphis scored 70 points in a victory against Connecticut on Oct. 6 in which Miller caught 15 passes for 224 yards and four touchdowns. Miller did not have a Division I scholarship offer after a career as a three-year letter winner at Christian Brothers High School in Memphis. Miller redshirted his first season at Memphis and missed all of 2014 with a shoulder injury. He is the school's all-time leader in receptions and receiving yards and his 1,434 yards in 2016 was a Memphis single-season record.
Mayfield, a two-time winner of the Burlsworth Trophy, has led Oklahoma to a 9-1 start and No. 3 national ranking. He has completed 71.2 percent of his passes for 31 touchdowns and only five interceptions, helping the Sooners average 44.3 points per game. Mayfield, 6-foot-1, 220 pounds, has started every game for Oklahoma this season, ranks second nationally with 3,559 total passing yards, and 358.4 yards per game. He is No. 3 nationally in passing touchdowns. Mayfield finished third in voting for the Heisman Trophy in 2016 and is widely considered as a leading contender for the award in 2017. Mayfield walked on at Texas Tech in 2013 and started seven games before deciding to transfer to Oklahoma. He sat out in 2014 and was named the Sooners' starter prior to the 2015 season.
Fumagalli has 33 catches for 422 yards and 3 touchdowns for the Badgers so far this season. He has helped the Badgers to a 10-0 record, No. 5 national ranking, and the top spot in the Big 10 West. Fumagalli, who enrolled as a walk-on in June 2013, was named the John Mackey Award Tight End of the Week Sept. 13 and was a preseason first-team All-America pick by Athlon, ESPN and Sports Illustrated. Fumagalli, 6-foot-6, 248 pounds, was a letter winner in football and baseball as a high school senior and chose to walk on at Wisconsin over offers from Mid-American Conference schools and FCS programs. Fumagalli was named the Cotton Bowl Offensive MVP last season in the Badgers' 24-16 victory against Western Michigan. He caught six passes for 83 yards and a touchdown.
The trophy is named in honor of Brandon Burlsworth. Without one D1 scholarship offer, Brandon walked on to the Razorback team in 1994, worked his way to being a three-year starter and was eventually named an All-American in 1998. Burlsworth was selected as the 63rd overall pick by the Indianapolis Colts in the 1999 NFL draft, but was tragically killed in a car accident 11 days later. The Burlsworth Foundation was created in his memory and supports the physical and spiritual needs of children, in particular those children that have limited opportunities. Brandon Burlsworth's life is also the subject of a major motion picture, "GREATER", which was released last year.