Top Three Finalists Announced for Burlsworth Trophy
Winner to be named December 5
FAYETTEVILLE, Ark., Nov. 15, 2022 – The three finalists for the 13th annual Burlsworth Trophy have been selected and include Purdue University Quarterback Aidan O'Connell, Troy University Linebacker Carlton Martial and University of Georgia Quarterback Stetson Bennett. A total of 81 universities from across the nation nominated a player for the 2022 award. Last week the list was narrowed to 10 semi-finalists. The Burlsworth Trophy is awarded to the most outstanding college football player in America who began his career as a walk-on. Burlsworth's life is also the subject of a major motion picture, "GREATER", which was released nationally in 2016. 
Finalists will be honored and the winner of the 2022 Burlsworth Trophy will be announced December 5, at 7:00pm CST at Crystal Bridges Museum in Bentonville, Arkansas.
The 2022 finalists are: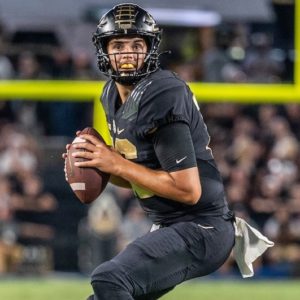 Aidan O'Connell, Purdue University, Senior-Quarterback
O'Connell is capping off his 6th year in West Lafayette with big numbers and accolades. The Long Grove, Ill., native has passed for more than 2,600 yards with 18 touchdowns for the Boilermakers this fall. He's gone over the 300-yard passing mark five times in 2022, including a season-high 424 yards against Syracuse with three touchdowns. Aidan has passed for four TDs in a game twice (Indiana State and Nebraska) this fall.
Earlier this month, Purdue picked up a big win at then-No. 21 Illinois as Aidan passed for 237 yards and three TDs with one interception in the 31-24 victory.
Coming off an injury that limited him to three games in 2020, Aidan lit up the Big 10 for more than 2,700 yards passing and 28 TDs in 2021. He earned second team All-Big Ten honors by the league's coaches and media, Associated Press, Pro Football Focus and Phil Steele. Aidan was also given the Drew Brees Mental Toughness Award by the National Football Foundation.
He was inserted into the game at halftime against Illinois Sept. 25 and made his first start a week later against Minnesota. His 71.8% completion percentage broke the Purdue efficiency and percentage single-season records. He finished eighth all-time in attempts, tied for fourth in completions, fifth in passing yards and fourth in touchdowns for a season. Aidan passed for 300 yards or more six times in 2021.
O'Connell came to Purdue in 2017 as a walk-on after setting the career passing record at Stevenson High School. He did not see the field in 2017 or 18 and then in 2019 appeared in six games making three starts and finishing the season 103-of-164 for 1,101 and eight touchdowns. In 2020, in just three games, he amassed 916 yards, seven TDs and averaged 305.3 passing yards before injury ended his season.
Aidan is a four-time All-Academic Big 10 selection and has his degree in general management and completed a master's degree in Technology, Leadership, and Innovation in May of 2022. He married Jael Johnson in July of 2022.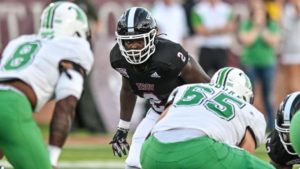 Carlton Martial, Troy University, Senior-Linebacker
In week 10, a 10-9 win over Army, Martial set the all-time NCAA FBS career record for tackles. In the third quarter, the three-time first- team All-Sun Belt Conference selection secured the record finishing with 22 tackles. He may have broken the record earlier had he not had to miss the Appalachian State game with a hamstring injury. That game was one of only two losses for the Trojans, who are enjoying a resurgence under first-year head coach Jon Sumrall. For the 2022 season, Carlton is currently ranked No. 2 in the nation in tackles with 104 total stops with 11.8 per game.
In 2021, Carlton's accolades included Burlsworth Trophy finalist, All-Sun Belt first team honors and a spot on the Pro Football Network All-American team. He finished the season with 24 more tackles than anyone else in the Sun Belt and – seven more overall despite playing two fewer games – and was the only player averaging double-digit tackles per game. He ranked sixth nationally with 10.6 tackles per game.
As a sophomore and junior, Carlton totaled more than 100 tackles each season and earned first-team All-Sun Belt Conference honors. In 2020, he was a Burlsworth Trophy semifinalist.
After redshirting in 2017, he was awarded a scholarship before fall camp began in 2018. He started nine games at middle linebacker and was a top Sun Belt Conference Freshman of the Year candidate in 2018. He led all SBC freshmen in tackles, tackles for loss and was second in sacks. He was No. 6 nationally among freshmen in tackles. Carlton returned to his hometown of Mobile, Ala., for the Dollar General Bowl and dominated with six tackles, two forced fumbles and a fumble recovery. He capped the season by being elected to three different Freshman All-American teams.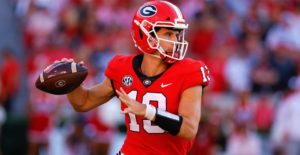 Stetson Bennett, University of Georgia, Senior-Quarterback
The Blackshear, Ga., native keeps adding memorable chapters to a storybook Bulldogs career.
After earning MVP honors in the CFP Championship game win against Alabama last season, Stetson is having another banner season in his final year in Athens as the Bulldogs make another run at a CFP title.  He ranks No. 13 nationally in passing yards (2,895) and was the Walter Camp Player of the Week after a Week 1 victory against then-No. 11 Oregon. He was also named the Manning Award Quarterback of the Week for torching the Ducks with a career-high 368 yards on 25-of-31 passing with two touchdowns and added a rushing TD. In a showdown with then-No. 1 Tennessee, Bennett was 17-of-25 for 257 yards passing and two touchdowns and added a 13-yard rushing TD to help the Bulldogs to a 27-13 win over their SEC East foe.
His 64-yard run against Auburn earlier this fall was the longest by a Bulldog QB since Ray Goff rambled 73 yards against Clemson in 1976. Stetson is included among the Top 10 candidates for the 2022 Johnny Unitas Golden Arm Award.
In 2021, he started 12 of the 14 games and came up big during Georgia's CFP run. Stetson was the Offensive MVP of the Capital One Orange Bowl after completing 20-of-30 passes with three TDs in the win over Michigan. He then completed 17-of-26 passes for 224 yards and two TDs in the CFP Championship Game win over the Crimson Tide. He clinched the game's MVP award by directing two fourth-quarter drives. He threw TD passes of 40 and 15 yards on his final two tosses of the game. Also in 2021, Stetson, who was a Burlsworth Award finalist, passed for 231 yards and two touchdowns in the Bulldogs' win at No. 18 Auburn while rushing for 41 yards. He completed 10-of-12 passes for 288 yards and a school record-tying five touchdowns in a win over UAB.
In 2020, he appeared in five games and finished the season as the Bulldogs' top passer (by attempts and completions).  He completed 86-of-155 passes (56%) for 1,179 yards and 8 TDs. He earned the first start of his career in a win over Auburn, completing 17-of-28 passes for 240 yards and a touchdown against the Tigers.
Stetson began his Georgia career in 2017 as a redshirt freshman before transferring to Jones (Miss.) Junior College. After a standout season there, he returned to Georgia where he saw action in five of 14 games, completing 20-of-27 pass attempts in 2019.
Past Burlsworth Trophy winners include:
2021- Grant Morgan, Linebacker- University of Arkansas
2020- Jimmy Morrissey, Center- University of Pittsburgh
2019- Kenny Willekes, Defensive End- Michigan State
2018- Hunter Renfrow, Receiver- Clemson
2017- Luke Falk, Quarterback- Washington State
2016- Baker Mayfield, Quarterback- Oklahoma
2015- Baker Mayfield, Quarterback- Oklahoma
2014- Justin Hardy, Receiver- East Carolina
2013- Jared Abbrederis, Receiver- Wisconsin
2012- Matt McGloin, Quarterback- Penn State
2011- Austin Davis, Quarterback- Southern Mississippi
2010- Sean Bedford, Center- Georgia Tech
About the Burlsworth Trophy
The trophy is named in honor of Brandon Burlsworth. Without one D1 scholarship offer, Brandon walked on to the Razorback team in 1994, worked his way to being a three-year starter and was eventually named an All-American in 1998. Burlsworth was selected as the 63rd overall pick by the Indianapolis Colts in the 1999 NFL draft, but was tragically killed in a car accident 11 days later. The Burlsworth Foundation was created in his memory and supports the physical and spiritual needs of children, in particular those children who have limited opportunities. For a full narrative of the Foundation's work, visit brandonburlsworth.org.
About the National College Football Awards Association
The Burlsworth Trophy is a member of the National College Football Awards Association (NCFAA), which encompasses the most prestigious awards in college football. Founded in 1997, the NCFAA and its 25 awards now boast over 800 recipients, dating to 1935. Visit ncfaa.org and @NCFAA on Twitter to learn more about the association.
###