Winner to be named on December 4th at the Northwest Arkansas Convention Center
SPRINGDALE, Ark., Nov. 29, 2017 –  Legendary Kansas City Chiefs defender and Pro Football Hall of Fame inductee Bobby Bell will speak at the 2017 Burlsworth Trophy Announcement at the Northwest Arkansas Convention Center in Springdale on Monday, December 4th.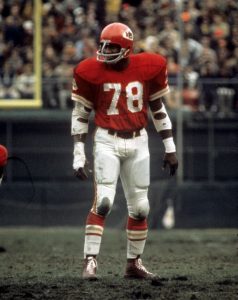 Bell began his college career at the University of Minnesota as a quarterback. He switched to the defensive line and was a two-time All-American (1961 and 1962), winner of the 1962 Outland Trophy as the nation's outstanding interior lineman, and finished third in Heisman Trophy voting. With Bell, the Gophers were the 1960 National Champions, played in the 1961 Rose Bowl, and won the 1962 Rose Bowl Championship. Bell was later inducted into the College Football Hall of Fame.
Bell was an AFL All-Star from 1964 through 1969, and then an NFL Pro Bowler from 1970–1972. He was on two AFL Championship teams and a World Championship team. He was named to the All-Time All-AFL Team in 1970. After being inducted into the Chiefs Hall of Fame in 1980, he was the first Chiefs player inducted into the Pro Football Hall of Fame in 1983. The Chiefs have retired his uniform number 78. In 1999, he was ranked number 66 on The Sporting News' list of the 100 Greatest Football Players.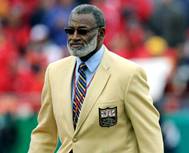 The Burlsworth Trophy is named in honor of Brandon Burlsworth. Without one D1 scholarship offer, Brandon walked on to the Razorback team in 1994, worked his way to being a three-year starter and was eventually named an All-American in 1998. Burlsworth was selected as the 63rd overall pick by the Indianapolis Colts in the 1999 NFL draft, but was tragically killed in a car accident 11 days later. The Burlsworth Foundation was created in his memory and supports the physical and spiritual needs of children, in particular those children who have limited opportunities. Brandon Burlsworth's life is also the subject of a major motion picture, "GREATER", which was released last year. 
The finalists for the 8th annual Burlsworth Trophy include Memphis Wide Receiver Anthony Miller, Oklahoma Quarterback Baker Mayfield, Washington State Quarterback Luke Falk and Wisconsin Tight End Troy Fumagalli.