Winner to be named on Dec.7, fans encouraged to vote
FAYETTEVILLE, Ark., Nov. 24, 2015 – The three finalists for the 6th annual Burlsworth Trophy have been selected and include Oklahoma Quarterback Baker Mayfield; Penn State Defensive End Carl Nassib; and Washington State Quarterback Luke Falk. The three finalists were chosen from 55 nominees from across the nation and last week was narrowed to 10 semi-finalists. The Burlsworth Trophy is awarded to the most outstanding college football player in America who began his career as a walk on. Burlsworth's life is also the subject of a new major motion picture, "GREATER", which will be released on January 22, 2016.
The winner will be announced at a ceremony on Dec. 7th in Springdale, Ark. and is presented by the Springdale Rotary Club.
The 2015 finalists are:
Baker Mayfield, JR, Quarterback, Oklahoma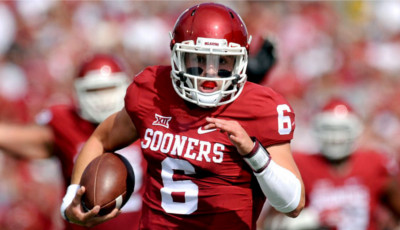 Mayfield leads the Big 12 in passing touchdowns with 33 through 11 games. He ranks fourth in the conference with 291.1 yards passing per game and has thrown just four interceptions.
Mayfield has thrown for 3,209 yards and has a 180.7 quarterback rating, which is second in the Big 12 and ranks No. 2 nationally.
Only three quarterbacks nationally have thrown for more touchdowns and Mayfield is seventh in passing percentage. He's completed 226 of 329 passes, helping the Sooners to a 10-1 record.
Mayfield went 25-2 with a state championship as a two-year high school starter and had scholarship offers from Florida Atlantic, Rice and Washington State. He instead walked on at Texas Tech where he earned the starting job as a freshman. After earning recognition as the Big 12 Offensive Freshman of the Year, Mayfield transferred to Oklahoma at semester of his freshman year. He sat out in 2014 and earned the starting job at the beginning of 2015.
Carl Nassib, SR, Defensive End, Penn State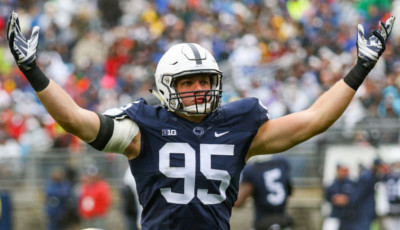 Nassib leads the nation in sacks with 16 total, including 15 solo. Those sacks have accounted for 107 yards in losses.
For the season Nassib leads the country with 18 tackles for loss, an average of 1.77 per game. He also ranks No. 1 in the country with six forced fumbles, helping Penn State to a 7-4 record.
Those totals also lead the Big 10. In two previous seasons Nassib, a two-time All-Big Ten Academic selection, combined for only two sacks and 5.5 tackles per loss.
Nassib has recorded 31 tackles for the season and also has an interception.
As a junior Nassib had 12 tackles. He recorded only seven tackles as a sophomore.
Nassib had no scholarship offers out of high school and arrived at Penn State as a preferred walk-on. He grew two inches and gained more than 50 pounds after arriving on campus, earning a scholarship as a sophomore.
Luke Falk, SO., Quarterback, Washington State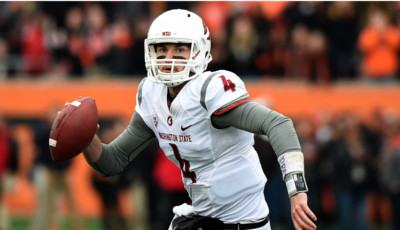 Falk leads the country and Pac-12 with 4,266 yards passing. He has thrown for 36 touchdowns with only eight interceptions this season in helping the Cougars to an 8-3 record.
Falk has completed 418 of 591 passes, for 70.7 percent, second in the country. He has 119 more attempts and 99 more completions than his closest competitors and has become the fastest player in Washington State history to reach 4,000 yards passing.
This season he has been named the Pac-12 Offensive Player of the week three times. Falk leads the Pac 12 in total offense with 377.5 yards per game.
After redshirting his first season on campus, Falk started the final three games of his redshirt freshman season, appearing in six.
Cornell was Falk's only scholarship offer out of high school. He decided to walk-on at Washington State after setting single-season records for pass attempts (562) and completions (33) in high school.
Fans are allowed to vote for their favorite player via the "GREATER" Fan Vote. Voting can be accessed at www.burlsworthtrophy.com and began with the top 10 semi-finalists and continue as the selection committee announces the winner on Dec. 7. Finalists will be honored and the winner of the 2014 Burlsworth Trophy announced Dec. 7 at a banquet in Springdale, Ark., sponsored by the Springdale Rotary Club.
The trophy is named in honor of Brandon Burlsworth. Without one D1 scholarship offer, Brandon walked on to the Razorback team in 1994, worked his way to being a three-year starter and was eventually named an All-American in 1998. Burlsworth was selected as the 63rd overall pick by the Indianapolis Colts in the 1999 NFL draft, but was tragically killed in a car accident 11 days later. The Burlsworth Foundation was created in his memory and supports the physical and spiritual needs of children, in particular those children who have limited opportunities.
The Fan Vote counts as 5 percent during each round of voting, and it is combined with the results from the Selection Committee. Fans can cast their vote for the nation's most outstanding player who began his career as a walk-on once per day. Fan Vote totals are cleared after each round.