Fans can vote for their favorite player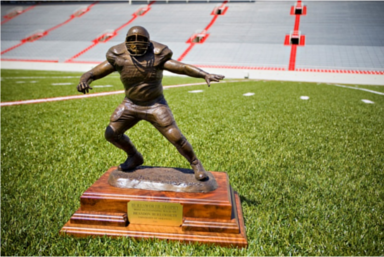 FAYETTEVILLE, Ark., Nov. 7, 2017 – Today, the Burlsworth Trophy selection committee announce the top 10 semi-finalists for the 2017 award. The Burlsworth Trophy is awarded to the most outstanding football player in America who began his career as a walk-on. Brandon Burlsworth's life is also the subject of a major motion picture, "GREATER", which was released last year. 
The 2017 semi-finalists include:
Leighton Vander Esch, Boise State University, Linebacker, JR — Vander Esch ranks ninth nationally with 6.2 solo tackles per game, helping the Broncos to a 7-2 start. He recorded a career-high 16 tackles with 2 sacks and a forced fumble against No. 19 Washington State. Vander Esch had back-to-back 11-tackles games against San Diego State and Wyoming and he ranks second in the Mountain West in total and solo tackles. Vander Esch walked on for the Broncos in 2014.
Patrick Laird, University of California, Running Back, JR — Laird has 1,041 total offensive yards and eight touchdowns in 10 games for the Bears this season. He has run for 796 yards and 7 touchdowns on 139 carries for the Golden Bears with 36 receptions for 245 yards and a touchdown. Laird is a national and Pac-12 All-Academic candidate in 2017 and was awarded a football scholarship prior to the 2017 season.
Aaron Davis, University of Georgia, Defensive Back, SR — Davis has been a key part of the Georgia defense, which currently ranks No. 4 nationally in total defense through nine games. Davis has 23 tackles, 4 pass breakups and one forced fumble for the undefeated Bulldogs. Davis enrolled at Georgia and walked onto the football team after rehabbing from an ACL tear in his knee as a high school senior. Davis has started all nine games for the second-ranked Bulldogs.
Trent Tanking, Kansas State University, Linebacker, SR — Tanking, ranks sixth nationally with 6.3 solo tackles per game for the 5-4 Wildcats. He has 75 total tackles, including 2.5 for loss with 2 pass breakups, 1 quarterback hurry and 1 forced fumble. Tanking has started all nine games this season and ranks sixth in total tackles among Big 12 players. He had a career-high 13 tackles in a game against TCU and made 10 stops against Oklahoma.
Anthony Miller, University of Memphis, Wide Receiver, SR — Miller ranks No. 2 nationally with 11 receiving touchdowns and is No. 6 nationally with 903 receiving yards through nine games Memphis. Miller has recorded two games with 200 receiving yards for the Tigers, who are currently ranked No. 20 with an 8-1 record. He is the school's all-time leader in receptions and receiving yards and his 1,434 yards in 2016 was a Memphis single-season record.
Austin Corbett, University of Nevada, Offensive Lineman, SR — Corbett has started all 10 games for the Wolf Pack in the 2017 season. He was named to the Outland Trophy and Wuerffel Trophy preseason watch lists and was recognized prior to the season as an All-Mountain West first-team lineman by Athlon Sports and Phil Steele. Corbett led the offensive line in consecutive 400-yard, four-touchdown performances and was a key in opening holes during Kelton Moore's 216 rushing yards against Hawaii.
Baker Mayfield, University of Oklahoma, Quarterback, SR — Mayfield, a two-time winner of the Burlsworth Trophy, has led Oklahoma to an 8-1 start and No. 5 national ranking. He has completed 71 percent of his passes for 28 touchdowns and only five interceptions, helping the Sooners average 45.0 points per game. Mayfield has started every game for Oklahoma this season and leads the country with 3,314 total passing yards and is second nationally with 358.4 yards per game.
Hayden Hurst, University of South Carolina, Tight End, JR — Hurst leads the Gamecocks with 14.0 yards per catch, hauling in 30 catches for 421 yards with two touchdowns, including a long of 62 yards. Hurst, who walked on at South Carolina in 2015 after a playing minor league baseball, was a Burlsworth Trophy nominee in 2016 and named a preseason All-SEC selection by Athlon. Hurst has been a key part of the offense for 6-3 South Carolina.
Luke Falk, Washington State University, Quarterback, SR — Falk, a two-time Burlsworth Trophy finalist, has thrown for 2,913 yards with 26 touchdowns and 8 interceptions in 10 games for the 8-2 Cougars. Falk ranks No. 7 nationally in passing touchdowns and he leads the Pac-12 in passing touchdowns and passing yards. He has started all 10 games for the No. 19 Cougars this season and currently ranks among the NCAA Top 10 in all-time career passing yards, touchdowns and total offense.
Troy Fumagalli, University of Wisconsin, Tight End, SR — Fumagalli has 30 catches for 401 yards and three touchdowns for the Badgers so far this season. He has helped the Badgers to a 9-0 record and the top spot in the Big 10 West. Fumagalli, who enrolled as a walk-on in June 2013, was named the John Mackey Award Tight End of the Week Sept. 13 and was a preseason first-team All-America pick by Athlon, ESPN and Sports Illustrated.
Fans will be allowed to vote for their favorite player via the "GREATER" Fan Vote beginning today, Nov. 7 at 2:00  PM CST. Fans are limited to one vote per day, and the voting for the semi-finalist round will conclude on Nov. 12 at midnight CST. Voting can be accessed at burlsworthtrophy.com and will begin with the top 10 semi-finalists and continue as the selection committee announces the top three Burlsworth Trophy finalists on Nov. 14th. Finalists will be honored and the winner of the 2017 Burlsworth Trophy announced December 4, at a banquet in Springdale, Ark., hosted by the Brandon Burlsworth Foundation, in conjunction with the Springdale Rotary Club.
The trophy is named in honor of Brandon Burlsworth. Without one D1 scholarship offer, Brandon walked on to the Razorback team in 1994, worked his way to being a three-year starter and was eventually named an All-American in 1998. Burlsworth was selected as the 63rd overall pick by the Indianapolis Colts in the 1999 NFL draft, but was tragically killed in a car accident 11 days later. The Burlsworth Foundation was created in his memory and supports the physical and spiritual needs of children, in particular those children who have limited opportunities.
The "GREATER" Fan Vote counts as 5 percent during each round of voting, and it is combined with the results from the Selection Committee. Fans can cast their vote for the nation's most outstanding player who began his career as a walk-on once per day. Fan Vote totals are cleared after each round.