FOR IMMEDIATE RELEASE
Contact:
John Engleman, Mitchell Communications Group
John.Engleman@mitchcommgroup.com
479-305-1665
Burlsworth Trophy Announces Semi-Finalists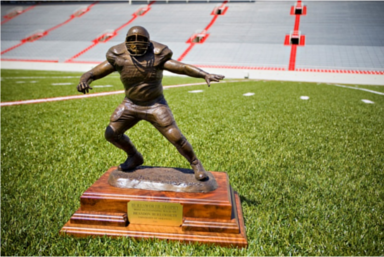 FAYETTEVILLE, Ark., Nov. 6, 2018 – Today, the Burlsworth Trophy selection committee announce the top 10 semi-finalists for the 2018 award. The Burlsworth Trophy is awarded to the most outstanding football player in America who began his career as a walk-on. Brandon Burlsworth's life is also the subject of a major motion picture, "GREATER", which was released nationally in 2016. 
The 2017 winner was quarterback Luke Falk from Washington State University. A three-year starter for WSU, Falk broke the PAC-12 record for career passing yards during his senior season. He is now a member of the Miami Dolphins. The 2015 and 2016 winner was Heisman Trophy winner Baker Mayfield who was the first pick in the 2018 NFL draft.
The 2018 semi-finalists include:
Patrick Laird, University of California, Running Back, SR — Laird, named a Burlsworth semifinalist in 2017, has 700 yards and five touchdowns on 160 carries this season. Laird has caught 38 passes for 251 yards and three touchdowns. He is one of 10 finalists for the Senior CLASS Award, presented to the nation's top student athlete. Laird, who was awarded a scholarship prior to the 2017 season, had 241 all-purpose yards in a victory against Oregon State.
Hunter Renfrow, Clemson University, Wide Receiver, SR — Renfrow has caught 27 passes for 305 yards and a touchdown this season for the second-ranked Tigers. He caught a 17-yard touchdown pass in Clemson's 49-21 victory against Georgia Tech. Renfrow, who walked on after receiving no Division I offers, appeared at wide receiver, punter and quarterback in a victory against Wake Forest. Renfrow is averaging 11.3 yards per reception with a long of 40 yards.
Kenny Willekes, Michigan State University, Defensive End, JR — Willekes ranks second in the Big Ten with eight sacks for 56 yards in losses. He has 51 total tackles and recorded a season-high nine tackles and two sacks against No. 5 Michigan. Willekes was a third-team All-Big Ten selection in 2017 after finishing the season with 73 tackles. He has recorded at least five tackles in six games this season and has recorded two sacks twice this season.
Blake Cashman, University of Minnesota, Linebacker, SR — Cashman leads the team with 58 tackles, a team leading 45 solo tackles and is tied for first on the team with 12 tackles for loss. Cashman, who did not receive any Division I scholarship offers, following an all-state high school career, ranks among the top 50 nationally in solo tackles and tackles for loss. He set a career-high with 13 tackles against then-No. 3 Ohio State.
Cole Holcomb, University of North Carolina, Linebacker, SR — Holcomb ranks No. 13 nationally with 48 solo tackles and is averaging 6.0 unassisted tackles per game. He leads the Tar Heels in total tackles for a second consecutive season and Holcomb leads the ACC in tackles per game at 10.1. Holcomb, who walked on at North Carolina after being a three-year letter winner in high school, had a team-leading 12 tackles, two tackles for loss and a sack in the victory over Pittsburgh.
Lee Morris, University of Oklahoma, Wide Receiver, JR — Morris ranks No. 13 nationally and fifth in the Big 12 with eight receiving touchdowns. He is averaging 22.1 yards per reception for the Sooners, who rank No. 3 nationally at 49.1 points per game and No. 2 overall with 563.2 yards per game. Morris is coming off a game in which he caught four passes for 101 yards and two touchdowns against Texas Tech.
Taylor Cornelius, Oklahoma State, Quarterback, SR — Cornelius has thrown for 2,622 yards and 20 touchdowns this season, completing 181 of 302 passes. He ranks in the Top 10 nationally in passing yards, Top 15 in passing touchdowns and Top 30 in pass efficiency. Cornelius threw for 728 yards over the first two games of 2018 and he has also run for seven touchdowns this season for the Cowboys, which rank No. 10 nationally in total offense.
Quin Ficklin, Utah State, Center, SR — Ficklin anchors an offensive line for a Utah State offense that ranks 14th in the country with 485.7 yards per game. Ficklin, who spent three years as a walk-on at BYU before walking-on at Utah State prior to his junior season, earned All-Mountain West honorable mention status last season. He has started all 9 games at center for Utah State, which ranks second nationally with 50.1 points per game.
Ryan Connelly, University of Wisconsin, Inside Linebacker, SR — Connelly leads the Badgers with 65 tackles and a team-high 39 solo stops. He has recorded five quarterback hurries and forced a fumble for Wisconsin. A two-time Academic All-Big Ten pick, Connelly was an honorable mention All-Big Ten selection in 2017. Connelly has appeared in all 49 games that he has been with the Badgers and he recorded a season-high eight tackles against No. 5 Michigan.
Marcus Epps, University of Wyoming, Free Safety, SR — Epps is among the Cowboys' team leaders with 51 tackles, including five tackles for loss and five pass breakups. He had a season-high eight tackles with a sack against Colorado State, helping Wyoming to a 34-21 victory. Epps has started 47 of 48 games since beginning his career as a freshman walk-on and is the first Wyoming player in 122 years to be named a three-time team captain.
The selection committee will announce the top three Burlsworth Trophy finalists on Tuesday, Nov. 13th. Finalists will be honored and the winner of the 2018 Burlsworth Trophy will be announced Monday, December 3rd, at 12:45 pm at a luncheon in Springdale, Ark., hosted by the Brandon Burlsworth Foundation, in conjunction with the Springdale Rotary Club.
The trophy is named in honor of Brandon Burlsworth. Without one D1 scholarship offer, Brandon walked on to the Razorback team in 1994, worked his way to being a three-year starter and was eventually named an All-American in 1998. Burlsworth was selected as the 63rd overall pick by the Indianapolis Colts in the 1999 NFL draft, but was tragically killed in a car accident 11 days later. The Burlsworth Foundation was created in his memory and supports the physical and spiritual needs of children, in particular those children who have limited opportunities.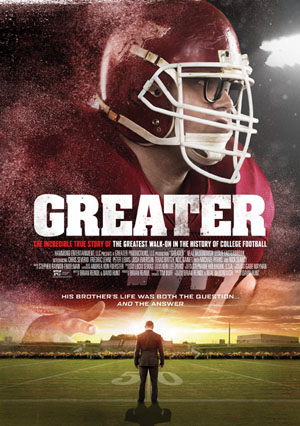 ###