Burlsworth Trophy Announces 2014 Semi-Finalists
FOR IMMEDIATE RELEASE
Burlsworth Trophy Announces Semi-Finalists
Fans can vote for their favorite player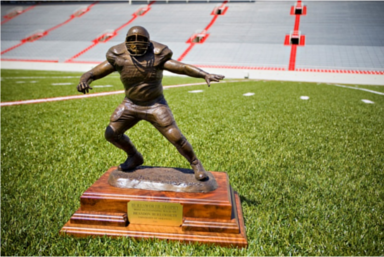 FAYETTEVILLE, Ark., Nov. 18, 2014 – Today, the Burlsworth Trophy selection committee and the Springdale Rotary Club announced the top 10 semi-finalists for the 2014 award. The Burlsworth Trophy is awarded to the most outstanding football player in America that began his career as a walk-on.
The 2014 semi-finalists include:
Justin Hardy, SR, Inside Receiver, East Carolina University– Justin has had one of the most prolific receiving careers in ECU and American Athletic Conference history. Through 9 games in 2014, he stands among the AAC leaders in all-purpose yards (1st, 1,053), receptions/game (1st), receiving yards/game (1st), and TD's (3rd). He is ECU's all time receptions leader, only player in ECU history to top 1,000 yards/season three times, and has topped 4,000 receiving yards for his career.
Mark Weisman, SR, Running Back, University of Iowa– As well as being an outstanding student, Mark has had one of the most outstanding running back careers in Hawkeye history. As a sophomore he led the team in rushing with 815 yards and 8 TD's. As a junior he led the team again with 975 yards and 8 TD's. For his career, he has 2,466 yards and 30 rushing TD's ranking him 3rd in Iowa history.
Jonathan Truman, SR, Linebacker, Kansas State University– Jonathan played every game his 1st two seasons before becoming a starter as a junior and senior. As a junior, he started all 13 games and finished 2nd on the team with 89 tackles. As a senior, he ranks 3rd in the Big 12 with a team high 85 tackles and had a career best 17 tackles in a 31-30 win at then 11th ranked Oklahoma.
Chris Jasperse, SR, Center, Marshall University– Chris has accomplished the amazing feat of starting every game for 4 straight years for the Thundering Herd. Now, as a senior, he has become arguably the best lineman in Conference USA. Marshall is presently one of only 2 undefeated teams in the FBS with a record of 10-0.
Jack Conklin, Soph., Offensive Tackle, Michigan State University– In 2013, Jack was named 1st Team Freshman All-American by Sporting News, CollegeFootballNews.com, and the Football Writers Association of America. Presently a sophomore, he has been selected to Phil Steele's and ESPN's midseason 1st Team All-Big Ten Team. Jack was also named to the Outland Trophy Watch List in 2014 which honors the nation's most outstanding interior lineman.
Ben Beckwith, SR, Guard, Mississippi State University– After playing his first two years primarily on special teams, Beckwith has spent the last 2 years as a starter and the leader of the offensive line. This season he led MSU to its first ever #1 ranking and the Bulldogs are presently still in the hunt for the National Championship. He was named to Phil Steele's 2014 midseason 1st team All-SEC, and 3rd team All-American.
Mack Hollins, Soph., Wide Receiver, University of North Carolina– Mack appeared in all 13 games in 2013 and was named special teams captain as a freshman. As a sophomore, he has emerged as the Tarheel's top receiving threat catching a team high 28 passes and a team high 566 yards through 9 games. Mack has 7 receiving touchdowns, which is good for 10th in the ACC.
Joe Schmidt, SR, Linebacker, University of Notre Dame– Joe started each of the first 8 games for the Fighting Irish before suffering a season ending injury against Navy. Through 8 games, he led the team in tackles (65), and solo tackles (42). He had a stellar performance in the now infamous game against Florida State, where he had 9 tackles and intercepted a Jameis Winston pass that set up an Irish touchdown.
David Parry, SR, Defensive Tackle, Stanford University– David has played in every game for 4 straight years at Stanford and has been a starter for the last two. He is currently second on the team among down linemen with 23 tackles and has 4.0 TFL's, 2 sacks, and 5 QB hurries. He was named to both Athlon's and Phil Steele's preseason All-Pac-12 second teams.
Zach Vigil, SR, Linebacker, Utah State University– After starting every game his sophomore and junior years, Zach is topping off his career with a tremendous senior season. In 2014, Vigil ranks first on the team in tackles (114), TFL's (15), and sack (7). He ranks 1st in the Mountain West in TFL's/game (1.50). For his career, he has a total of 348 tackles which ranks him 10th all-time in school history.
Fans will be allowed to vote for their favorite player via the Fan Vote beginning today, Nov. 18 at 2:00 PM CST. Voting can be accessed at www.burlsworthtrophy.com and will begin with the top 10 semi-finalists and continue as the selection committee announces the top three Burlsworth Trophy finalists on Nov. 25th. Fans are limited to one vote per day, and the voting for the semi-finalist round will conclude on Nov. 20th at midnight CST. Finalists will be honored and the winner of the 2014 Burlsworth Trophy announced Dec. 8th at a banquet in Springdale, Ark., sponsored by the Springdale Rotary Club.
The trophy is named in honor of Brandon Burlsworth. Without one D1 scholarship offer, Brandon walked on to the Razorback team in 1994, worked his way to being a three-year starter and was eventually named an All-American in 1998. Burlsworth was selected as the 63rd overall pick by the Indianapolis Colts in the 1999 NFL draft, but was tragically killed in a car accident 11 days later. The Burlsworth Foundation was created in his memory and supports the physical and spiritual needs of children, in particular those children that have limited opportunities.
The Fan Vote counts as 5 percent during each round of voting, and it is combined with the results from the Selection Committee. Fans can cast their vote for the nation's most outstanding player who began his career as a walk-on once per day. Fan Vote totals are cleared after each round.
For more information about the Burlsworth Trophy, visit www.burlsworthtrophy.com.